UNC Tar Heels 1982 Champion NCAA Division I Mens Basketball Tournament Matchbook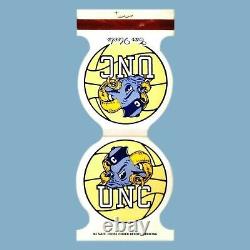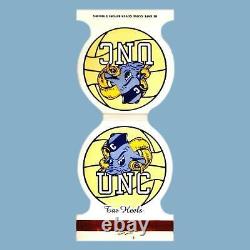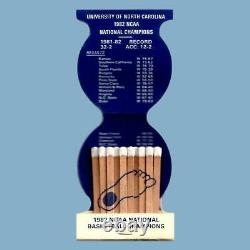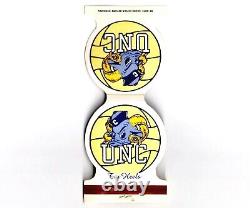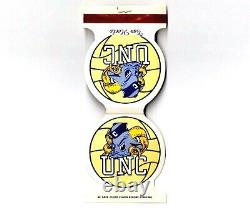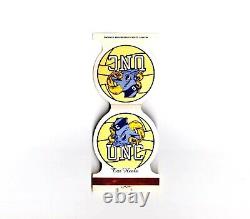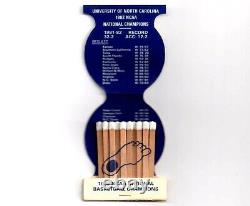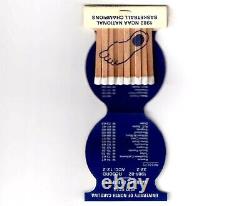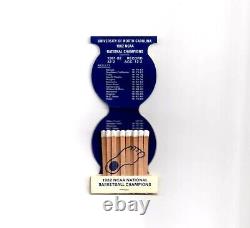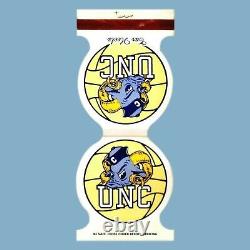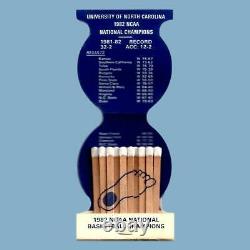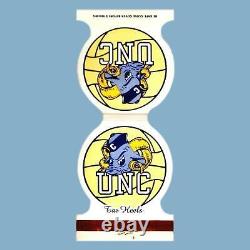 SKU: Mb/A-(0012) Have A Question? We are more than happy to help. UNC Tar Heels 1982 Championship NCAA Division I Men's Basketball Tournament Matchbook.
The 1982 NCAA Division I Men's Basketball Tournament involved 48 schools playing in single-elimination play to determine the national champion of men's NCAA Division I college basketball. It began on March 11, 1982, and ended with the championship game on March 29 in the Louisiana Superdome in New Orleans, Louisiana. A total of 47 games were played.
North Carolina, coached by Dean Smith, won the national title with a 63-62 victory in the final game over Georgetown, coached by John Thompson. James Worthy of North Carolina was named the Tournament's Most Outstanding Player. This Tournament was the first to eliminate the national third place game, which had been held every year since the 1946 tournament. It was also the first tournament to be televised by CBS after it acquired the broadcasting rights from NBC. Gary Bender and Billy Packer (also from NBC Sports) called the Final Four and National Championship games. In addition, it was the first tournament to include the word "Men's" in its official title, as the NCAA began sponsoring national championships in women's sports (including basketball) in the 1981-82 school year. The practice had begun with the 1975 Tournament to ensure that Northeastern independents would not be excluded, but was discontinued when all remaining Northeastern independents formed new conferences or joined existing ones after this season. The 1982 NCAA Division I Men's Championship Game was between the Georgetown Hoyas and the North Carolina Tar Heels.
Both teams had Hall of Fame coaches - Dean Smith for the Tar Heels and John Thompson for the Hoyas. As for players, five future NBA All-Stars were included between the two sides - the Hoyas featured center Patrick Ewing and Eric "Sleepy" Floyd, while the Tar Heels answered with forward James Worthy, forward and center Sam Perkins, and young guard Michael Jordan. This also marked the only NCAA championship game to feature three of the NBA 50 Greatest Players (Jordan, Ewing and Worthy) chosen in 1996 on the occasion of the NBA's 50th anniversary. The championship matchup was tightly contested throughout, with no team ever leading by more than a few points, and 15 lead changes in the game overall. With slightly over a minute to go, Floyd scored to put Georgetown on top, 62-61.
During the ensuing timeout, Smith predicted that Georgetown would heavily guard Worthy and Perkins and drew up a play that would work the ball around to Jordan and then met Jordan's eyes and told him to not be afraid to shoot if he was open. When the ball was worked around, Jimmy Black found Jordan on the left wing, and he rose and hit a jumper with 17 seconds to go to put Carolina back on top, 63-62. Georgetown did not call timeout but immediately pushed the ball up the court.
However, guard Fred Brown mistook Carolina's James Worthy for a teammate and passed the ball right to his opponent. Worthy was fouled by Eric Smith with two seconds to go. He missed both free throws, but with no timeouts left (Georgetown coach John Thompson, in a questionable move, used his last one before Worthy's free throws rather than save it to set up a final play) the Hoyas' last desperation shot fell short.
On the other hand, Dean Smith's decision to draw up a play for Jordan, rather than Worthy or Perkins, is often regarded as a brilliant coaching move. Before Michael Jordan was any of these things, before he was the most recognizable athlete in the world, he was Mike Jordan, the freshman for North Carolina. Then he hit a game-winning shot in the 1982 national championship game, and Mike became Michael Jordan, who became all of the above. Powell Latimer in the Daily Tar Heel before Jordan's 2009 Hall of Fame induction.
Aside from the dramatic finish in the final minute, the 1982 NCAA championship game is today primarily remembered as being the stage on which several eventual basketball legends were introduced to a national audience, particularly North Carolina's Jordan and Georgetown's Ewing, both 19-year-old freshmen at the time of this game. Both had outstanding games - Jordan with 16 points including the game-winner, and Ewing with 23 points and 10 rebounds, (but also a few goaltends on blocks that John Thompson supported for intimidation purposes). Jordan and Ewing would go on to have more memorable clashes in the National Basketball Association with the Chicago Bulls and New York Knicks respectively, and both would be inducted into the Hall of Fame. For Jordan's part, his game-winner is often seen as the launching point of his career - the moment that gave him the confidence to become what many believe to be the greatest basketball player of all time, in no small part due to his clutch performance.
Jordan has said multiple times that before he would take game-winning shots with the Bulls, he would sometimes think back to his shot in the 1982 game that propelled North Carolina past Georgetown. The real star of the 1982 title game, and a third player in this game who would eventually be inducted to the pro basketball Hall of Fame, was Carolina's James Worthy. Worthy scored a game-high 28 points, showing the blazing speed and some of the same authoritative drives to the basket that later became familiar sights during his career with the powerful Los Angeles Lakers of the 1980s. Beyond these three legendary players, two other outstanding pro players of the 1980s and early 90s appeared in this 1982 game: Georgetown's Sleepy Floyd, who went on to an All-Star career in the NBA (including a still-standing record for most points in a quarter and in a half for a playoff game) and Carolina's Sam Perkins, who distinguished himself over a durable NBA career lasting 17 seasons. Size : 4.5 x 1.875w. Condition : Item has very little age related wear.
For sale is an original vintage matchbook as shown above. Please view images of the item to determine it's condition. Matchbooks from all eras are popular as they often contain images of logos, stores, and places that people may recognize.
There are popular matchbook collecting topics. Don't limit yourself to certain ones, just collect anything that interests you.
There are matchbooks for any taste or budget. Many people collect topics related to their travels, fun, and/or other hobbies. Matchbooks have been around since 1892, when Joshua Pusey patented the idea of paper matches, whose tips were dipped in a solution of sulphur and phosphorus and then stapled to a piece of cardboard. In 1962, government safety rules decreed that friction strips must be moved from the outside-front of a matchbook to the outside back, thus obviating the need for the famous phrase Close Cover Before Striking.
Some phillumenists collect covers based on the company that made the matchbooks. In addition to Atlas, D. Bean, Diamond, Federal, Lion, Monarch, and Ohio among others, all produced collectible covers and features. Many collectors choose to organize their covers collection based on category.
For some reason, match-cover art is particularly transcendent when it comes to matchbooks for places to eat. The graphics and colors are frequently rich and vivid. In a few glorious cases the covers are printed with full-length designs. When the cover is flattened and turned sideways, it resembles a small billboard for the eating establishment. Get Started With Matchbook Collecting.
It's quite easy to begin your matchbook collection. When you pass by the hostess stand of a restaurant, take a look to see if there is a basket of matchbooks.
Ask the host or hostess, since they may keep these behind the stand. Hotel concierges might also have matchbooks which are kept behind the front desk for smoking patrons and matchbook collectors. Serious matchbook collectors put their matchbook collections in plastic sleeves, in special binders. They often use the same plastic sleeves that baseball card collectors use.
This is an easy and inexpensive way to preserve your matchbook collection and increase it's value. Step One : Decide if you want to collect matchbooks, matchboxes or both. Before you start collecting, think of creative ways you'd like to display your collection. Step Two : During your leisure time and travels, keep your eyes open for opportunities to collect matchbooks.
These include restaurants, hotels, bars, golf courses and more. Step Three : Carefully store your matchbooks when you bring them home to avoid any damage. A great way to display your collection is with a display frame made especially for matchbook collections. Matchbook Collecting Tips And Tricks.
The following tips and tricks can help you get the most out of your matchbook collecting hobby. Although you'll often find matchbooks more readily available overseas, keep in mind that it's against the law to pack any kind of matches in your luggage (checked or carry-on). To avoid this issue, you can remove the matches from the box or book before you return home. If you spy someone famous at a hotel or restaurant, grab a matchbook and try and get their autograph on the inside flap.
Expanding Your Matchbook Collecting Hobby. As you build your matchbook collection and would like to expand your hobby, consider a couple of the following ideas. Join one of the many matchbook collectors clubs. Build your own matchbook displays.
Broaden your collection theme to include Zippo lighters, (just for example). Any covers by these manufacturers are treasures, some more than others. Central Match & Label Co.
Any covers with these footers are treasures. These are all highly sought after. These are five of the more famous footers. They were used, in most cases, by the respective manufacturers as trademarks for certain covers.
Special footers such as these basically disappeared by World War II. When a collector happens upon one, he knows he's looking at an OLD cover. Blot-r match - Union Match Co. For Safety [by American Match]. For Safety by Ohio Match Co.
SAFETY FIRST : [from any company], but the following manufacturers are noted for their early. Please let us know how we can make yours a five-star rated one too!
Our goal is to make every customer 100% satisfied with their order. If you are not satisfied, please let us know before leaving any feedback. You may return items only in the original condition within 30 days.